We'll be talking about Mario's GameCube adventure on Thursday, 8/24 at 9 PM Eastern.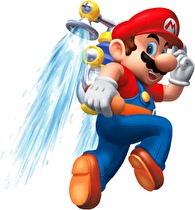 We've slogged through the Shines. We've determined the relative value of Clean and Dirty. We've even sprayed those worthless Toads with the contents of a Yoshi's stomach. Now it's time to talk Super Mario Sunshine!
Who: YOU! Join us in the Nintendo World Report Discord!
What: A live RetroActive where the RFN team gives their thoughts on Super Mario Sunshine. Then they take call-ins to get your takes, too.
Where: We'll be streaming via Icecast. We have a player further down this page, or you can plug http://www.nintendoworldreport.com:8000/rfnlive.mp3 into your application of choice.
When: August 24 at 9 PM Eastern
Why: Ask Greg.
How: The Internet.
If you can't make it, watch we'll package the show up and release it on our regular Sunday slot, but we hope you can join RFN for this look at Mario's most tropical adventure.