We're passionate about Nintendo games AND Nintendo goodies! Every month new prizes, and no purchase required!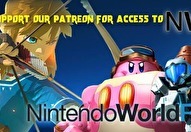 Nintendo World Report wouldn't be here and wouldn't be able to do what we do without you, our fans, readers, and fellow Nintendo enthusiasts. Your support and patronage keeps us going and keeps us passionate.
By way of thanks, and sharing that all consuming passion even more, we're starting a series of monthly random giveaways through our Patreon page where you can win different free prizes every month! No purchase is necessary, but Patreon backers are already automatically entered to win every single month!
We've already given out two Custom amiibo by customizer Zanarkandsky in the last two months, and this monrth we're selecting five winners to pick their prixes out of a collection of 19 different brand new official amiibo! Each month the prize changes, so check us out on Patreon if you haven't already done so and we hope you'll give a thought to helping us continue to provide exciting Nintendo gaming content and news!