Come play Wii U games with NWR staff and readers!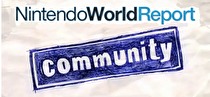 Nintendo World Report is having a Wii U community event tomorrow night, February 26, where our staff and readers can get together and play online.
The action starts at 7 p.m. Eastern (that's 4 p.m. Pacific and Midnight UTC), so pick your favorite Wii U online game and get in the chat to find people to play with!
We will be coordinating the event in our chat room. Having trouble? You can also connect with a dedicated IRC client. Server: irc.browsingtheinternet.com Channel: #nwr