Nintendo has not commented, and they won't.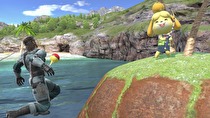 Nintendo may be considering a Switch upgrade next year, according to a report published in the Wall Street Journal.
The report, which cites suppliers and "others with direct knowledge of the plan", indicates that Nintendo is weighing what improvements to include in a new model. Improving the system's LCD screen is seen as a possibility in order to make the handheld mode run more efficiently, display brighter, or make the tablet thinner. Game compatibility would be maintained in a newer model.
The industry trend in recent years has been to increase the lifespan of platforms by introducing more powerful models after a few years. Sony introduced a Pro version of the PlayStation 4 in 2016, and Microsoft followed with the Xbox One X last year, but both companies still sell slimmed down versions of their platforms that run at the original specs.