The end of the ballot means a stream of rumors about what could be coming to Smash Bros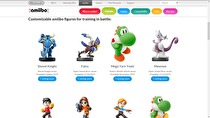 Multiple sources have hinted at what could future Smash Bros characters in the weeks ahead.
Last night, it was discovered that Nintendo's own Amiibo listing showed compatibility for the Shovel Knight Amiibo as a trainable fighter in Super Smash Bros for Wii U and 3DS. The page has since been removed, but other Amiibo such as Chibi-Robo were not on the page in question. Yacht Club Games has denied the rumor publicly, in a fashion similar to how they would not confirm the Shovel Knight Amiibo prior to its reveal at PAX Prime.
A separate set of rumors has a Splatoon/Smash combination video launching in the next few weeks, which would confirm both the Inklings of Splatoon as playable characters and a new stage. No word on if the video would simply focus on the Smash elements, or if they would announce official releases for things such as playable Octolings. We will continue to monitor the situation.