The Wii may still have some life left in Europe.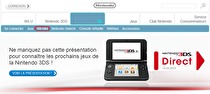 The Wii Mini may be coming to Europe.
The Wii Mini has been discovered under the Wii tab on multiple European versions of Nintendo's official site. However, it could be a mistake; after clicking on the link, users are greeted by an error page.
So far, the Wii Mini has been exclusive to Canada.