Box arts of three GBA games were uploaded to Nintendo's media servers, but they could just be in relation to the original releases.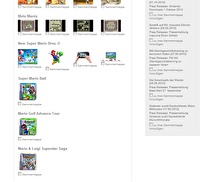 Game Boy Advance games might be headed to the European eShop soon based on images uploaded to Nintendo's media server, as first reported by the German site 3DS-Online and confirmed by Nintendo World Report. However, the box arts were added to the Game Boy Advance pages for each game, meaning that this could just be baseless speculation.
On the server, box arts can be found for three games:
Super Mario Ball
Mario Golf Advance Tour
Mario & Luigi Superstar Saga
With the recent announcement of a Nintendo Direct coming this Thursday, it is speculated that an official announcement will be made regarding the release of these games. However, the listing of the games may not refer to the 3DS and could just be something in relation to the GBA games themselves.
Check back with Nintendo World Report for any additional details.