Get ready for games such as Hell Yeah! to likely come to Wii U.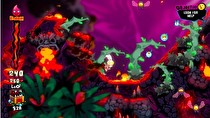 Sega is poised to announce several downloadable titles for the Wii U eShop soon, according to a tweet from NotEnoughShaders.com's Emily Rogers.
"Sega is excited about Wii U's digital distribution. Multiple XBLA/PSN games coming to Wii U. Sega will give official announcement soon," Rogers said.
Some of the titles coming from Sega in the coming months on XBLA and PSN are Arkedo's Hell Yeah!, Jet Set Radio, NiGHTS into dreams..., and Double Fine's The Cave. If Rogers is correct, then several or all of those titles will come to Wii U.
At PAX East 2012, we talked with members of Sega and Arkedo regarding Hell Yeah!'s chances of hitting Wii U. They didn't confirm anything, but they seemed open to the possibility.