While no one will confirm anything, people are looking into Wii U.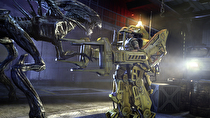 If there is one takeaway I got from talking to various publishers and developers on the PAX East 2012 show floor, it's that everyone is interested in Wii U, and for those more in the know, they're jazzed for Nintendo to blow the doors off of their next system at E3 2012 in June.
While no one would confirm anything directly to me, games such as Sega and Arkedo's Hell Yeah and Gajin Games' Runner 2 are, at a minimum, seemingly being considered for Nintendo's next system. In the fantastic indie area (the best part of the show floor, in my eyes), almost every developer has an eye towards Wii U's downloadable platform. Some of them are ready to jump in, while others, such as DrinkBox Studios (responsible for the fantastic Vita launch title Mutant Blobs Attack), are waiting to see what happens. If the eShop is any indication of Wii U's direction, the system should be populated with quality, at least as much as Xbox Live Arcade and SEN.
On the other hand, Sega and Gearbox are being downright boastful about Aliens: Colonial Marines on Wii U. Gearbox' Randy Pitchford is talking up the Wii U game like crazy, saying it'll be one of the best-looking versions of the game and feature wonderful Wii U-specific additions. Assassin's Creed III, which is confirmed for Wii U, looks excellent, though Wii U specifics haven't been detailed yet.
PAX East 2012 was low on Nintendo content. Nintendo and Square Enix's booth were the only two that featured substantial Nintendo system content. However, PAX East 2012 told me, as a Nintendo enthusiast and director of this site, that E3 2012 should be packed, and the future does look bright.