Level-5's popular RPG series may be coming to the 3DS.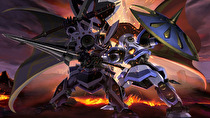 The Little Battlers, Level-5's popular RPG series about model robots, may come to the 3DS. The 3DS game, currently dubbed The Little Battlers Experience Baku Boost, is rumored to be revealed in the upcoming issue of CoroCoro magazine, alongside a PSP title of the same series.
Similar to the Custom Robo series, in The Little Battlers you take control of plastic models called LBXs and fight with them in real-time battles. The Little Battlers series has spawned a line of plastic models in Japan, as well as a manga and anime series.