Superhero strategy will not be going portable.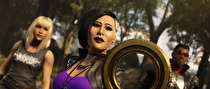 Another dose of strategy will not be coming to Switch after all.
A version of the Firaxis-developed turn based strategy game Marvel's Midnight Suns was announced for Switch release alongside other versions in 2021 with a target date of March, but the game ended up slipping to December 2022 and only launching on PlayStation 5, the Xbox Series, and PC. In an announcement today of the (digital-only) PlayStation 4 and Xbox One release date, a note was included "Note that a Nintendo Switch version of Marvel's Midnight Suns is no longer planned".
Developer Firaxis did not provide further comment.