Hope Charles Martinet signed up for residuals on this one.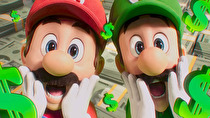 As the Mario movie wraps its second weekend in theatres, it's continuing to rack up ungodly box office totals.
According to estimates at Deadline, the animated feature is tracking for a total worldwide box office of $678m since its premiere - $348m US, $330m in the rest of the world. This represents an amazing 28% drop from the opening holiday weekend to this weekend, with a roughly 40% drop in the US offset by its international drop of 16% with no new premieres.
The Mario movie is reportedly the #1 grossing film of the year in 27 countries, including the United States and UK: this is pending its "home" launch in Japan for Golden Week (April 29).