Yo, that's some big shadowdrops.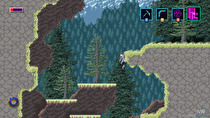 The following titles are slated to be added to the eShop immediately following today's Indie World presentation:
Axiom Verge 2, the prequel to the original exploration title announced in December 2019, is out today.
An enhanced version of coffee-flavoured adventure game Necrobarista ("The Final Pour") is a timed Switch exclusive.
Adding dating sim elements to roguelikes, Boyfriend Dungeon has dropped today.
Originally released on PC, procedural city buiilder Islanders is also a timed Switch exclusive for its console version.
A Switch version of previous PC title Slime Rancher ("Portable Edition") is coming today.
Thunderful's Curious Expedition 2 dropped a "today" launch date in the sizzle reel.
Garden Story is the final drop - the lo-fi gardening game announced in 2020.