The former of those announcements quite literally blew the news desk away.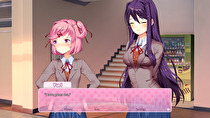 IGN's seventy minute game showcase held earlier today featured multiple announcements and release dates for Switch project, including one thought to be impossible.
Romance horror Doki Doki Literature Club had a "plus" version announced for Switch with a release date of June 30. A physical version will also be sold for US$29.99 from the online store of publisher Serenity Forge. Originally launched in 2018 on Steam and requiring multiple manipulations of files on the PC to complete, the "Plus" version will add new story elements and endings.
Skatebird, the avian extreme sports game which debuted in the December 2019 Indie World show, received a release date of August 12.
A new gameplay trailer was shown for OlliOlli World, which is still slated for winter after being announced in the first Indie World of 2021.
Action RPG Death's Gambit will make its debut on Switch in an "Afterlife" edition, which will add several new bosses and ten new levels to the original PC release.
Big Rumble Boxing: Creed Champions, the boxing title based on the Rocky film franchise, was dated for September 3.
Roman murder mystery The Forgotten City, an expanded version of a mod for Elder Scrolls V: Skyrim, will release on Switch July 28 from developer Modern Storyteller.
Also coming July 28 is Unbound: Worlds Apart, a fantastical game of exploration with a mage who can manipulate portals to other worlds and time.
Point and click puzzle game Unpacking will tell a story of organization in 2021. It is developed by Witch Beam (Assault Android Cactus+).