You're essential, even if the company you work for is trying to prove otherwise.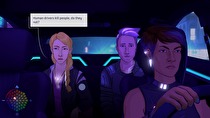 The Neo Cab will start accepting fares in a couple of weeks.
Fellow Traveler and Chance Agency have confirmed an October 3 launch date for Neo Cab, the cyberpunk adventure game announced for Switch in March's indie presentation. As one of the last human drivers for a ride sharing company, players have to take fares and uncover the mysteries of both their city and their own life.
A demo will be available today, and the game will retail for $19.99.