In before "Switch Fit Plus U".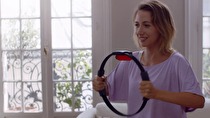 Nintendo is promising "a new experience for the Switch" next week, which appears to be dipping back into the world of fitness.
A trailer uploaded to Nintendo's Youtube account today shows multiple people hooking Joy-Cons into various weight belts and a more solid, circular object. The trailer cuts to multiple cities around the world, ending in Kyoto, before finishing on an announcement of more details on the 12th.