Rrrrready for virtual adventure!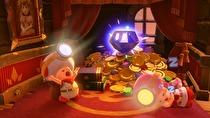 We've got some unexpected news on the Captain Toad beat.
A new update for the Switch version has added Labo VR support to the Switch version of the game. Four levels will be playable in the VR mode.
Additionally, Japanese Switch Online subscribers will be able to play Captain Toad: Treasure Tracker's Switch version for free from August 5 - 11. Unlimited play is available for the duration of the trial. Word has not been given on a Western release for this trial.