Four Horses announces port to the 3DS on the latest episode of the Talk Nintendo Podcast.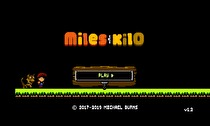 It was revealed during episode 147 of the Talk Nintendo Podcast that Miles & Kilo will be headed to the Nintendo 3DS eShop. Mick Waites of Four Horses, who is handling the port, informed us that the game will have stereoscopic 3D while running at 60fps. The retro platformer was released on the Nintendo Switch last year, but will make it's debut on the 3DS sometime later this year.
To keep up with everything Miles & Kilo, you can follow Four Horses over on twitter!
Below you can find the link to the latest episode and the Talk Nintendo Challenge featuring Miles & Kilo!