Including the return of an old friend.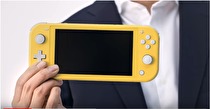 The Switch is going on a diet in September.
Nintendo have announced the Switch Lite for release on September 20. The smaller form factor is a single unit, with no detachable controls, and trades the directional button for a d-pad. The system will not be dockable or connectable to a TV, and the IR camera and HD rumble were removed from the controls.
The Lite's screen is 5.5" and has 720p resolution, allowing for a 20-30% (estimated) increase in battery life for the handheld mode.
Designed with a focus on handheld play, the Lite will launch with three color options: yellow, turquoise, and gray. The MSRP for the system will be $199.99/¥19800 or equivalent. A Pokémon Sword and Shield-themed model will also be available on November 8 for North America.