Last year was a heat wave, this year had a magnitude 7.1 earthquake. What's next, frogs swarm the LACC?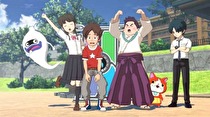 Anime Expo 2019 is about to wrap up in Los Angeles, and multiple game companies took the opportunity to announce Switch projects over the four day event. In addition to Spike Chunsoft's announcements, other news that eminated from AX panels includes:
Aksys Games
The busiest of the companies, Aksys made nine different Switch announcements at their panel. A physical release of Fishing Star World Tour will be out in September, and Ghost Parade (announced at last year's event) will be out in November. Spirit Hunter: NG, a follow-up to last year's Death Mark, will release in October (Spirit Hunter being the name of the series).
Additionally, Aksys has begun to release their multiple otome ("maiden", adventure games focused on romance) on Switch outside Japan in association with Idea Factory. Code: Realize -Guardian of Rebirth- will be the first one to launch, with a December 2019 release. Five other titles were given 2020 release windows: Code: Realize -Future Blessings- (a sequel to the first), Collar x Malice, Collar x Malice: Unlimited (a fan story follow up), Cafe Enchante, and Piofore.
Bandai Namco
Two different panels featured announcements from Bandai Namco. The first saw the announcement for 2020 of One Piece Pirate Warriors 4: the third game in the musou series launched on Switch last May.
A later panel featured two Digmon related announcements. Digimon Survive, originally announced for a 2019 release to coincide with the series's 10th anniversary, has been delayed to next year. At the same event, Digimon Story: Cyber Sleuth Complete Edition was announced for Switch with an October 18 release date, combining the 2016 and 2018 digital monster collection RPGs into a single Switch package.
CyberConnect2
Known more as a developer, CyberConnect2's first foray into publishing will come from Fuga: Melodies of Steel, a 2020 Switch release. Fuga is a part of the same series as 2011 DS RPG Solatorobo: Red the Hunter, but will be more strategy focused.
Level-5
At a panel with no stream or video, Level-5 confirmed that the recently-in-Japan released Yo-Kai Watch 4 will be localized. No release window was given, nor who would publish it: Nintendo have published the 3DS entries in the series outside Japan, though they were the Western publishers of all of the Professor Layton games aside from the Switch version of Layton's Mysterious Journey.
The Snack World was also reconfirmed for a Western release, but no further details were provided.
WayForward
In addition to details on River City Girls, WayForward announced a collaboration with Studio Trigger (Kill La Kill, Little Witch Academia) for the opening video of Shantae 5.