A brief teaser trailer showcases the sequel to the Switch launch game.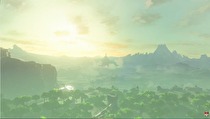 A sequel to The Legend of Zelda: Breath of the Wild is in development.
No date or estimated release window was given, but safe to say it is a ways off. The trailer showed Link and Zelda exploring a dungeon where a skeleton started to come to life.
The Hyrule from Breath of the Wild was shown, but it appears to be getting torn apart by this revived skeleton and the mysterious mist oozing around him.
While nothing was confirmed, it seems to use the same engine as Breath of the Wild and take place in a similar map.