Oh my pantheon.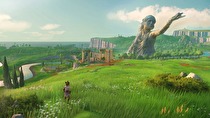 The gods must be crazy, and it'll be time to settle them down early next year.
Gods & Monsters is a new open world game for Switch announced at Ubisoft's E3 presentation. Developed by Ubisoft Quebec, the lead studio on Assassin's Creed Odyssey, it is due for a February 25 launch.
The lead character, Fenyx, is charged with saving the Isle of the Blessed from the fearsome Typhon, slaying multiple beasts of myth along the way.