Square Enix appears to be bringing over some sort of Secret of Mana collection to the West.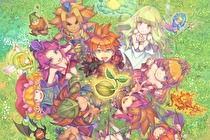 Square Enix is applying for the trademark for the game name Collection of Mana according to a recent filing with the EUIPO (European Union Intellectual Property Office).
It is unknown exactly what this collection could be, but back in 2017, Square Enix released the Seiken Densetsu Collection for Switch in Japan, which contained the first three entries in that series, two of which are known in America as Final Fantasy Adventure and Secret of Mana. The third game, Seiken Densetsu 3, was never released out of Japan.
Right now, all we can do is speculate as to what the Collection of Mana could contain. Final Fantasy Adventure had a 3D remake come to mobile and Vita in 2016 while Secret of Mana had a 3D remake hit PlayStation 4, Vita, and PC in early 2018. Secret of Mana is also available on the Super NES Classic and on the Wii U Virtual Console.
After an early 2000s revival, the Mana series has, in general, been quiet. Its last new Nintendo appearance was Heroes of Mana for the Nintendo DS in 2007.