Diantha is definitely a five-star unit.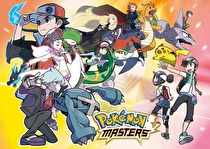 Two of Nintendo's partners have gathered for a new take on Pokémon Battling.
Pokémon Masters is a new mobile game developed by Nintendo's first mobile partner, DeNA. More details about the game will be revealed next month, but it was revealed that the game will feature protagonists, Gym Leaders, and champions from all of the prior Pokémon video games.
3v3 battles were shown in a gameplay video, as well as attacks with similar effects to the Z-Moves of the Sun and Moon games.