...yes, we see what they did there.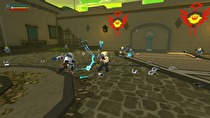 There will be plenty of time for reflection next year, and some of it will happen on Switch.
Triple-I Games, a partnership of former BioWare, ArenaNet, Amazon, and Sucker Punch developers, have announced an action/adventure game called Hindsight 20/20 for release in the first half of 2020. Set in the pacifistic town of Champaner, players will have to ward off invasion either with a stun baton or a killer blade.
The choice of whether or not to kill will affect the game's narrative and ending.