Star Wars? That's a name I haven't heard in a long time.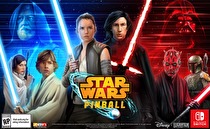 It'll be thirty months from launch before Star Wars makes the Switch run.
Zen Studios have announced Star Wars Pinball will release on Switch on September 13, in both digital and physical forms. The 19 table collection covers the movies, TV shows, and even specific characters such as a Lando Calrissian-inspired table.
Zen is also promising support for Switch specific features such as HD Rumble and vertical play.