I think the bold text collapsed somewhere around the four-way women's tag.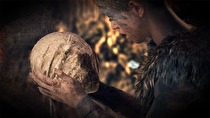 The bold text decided to ship off to New York for a wrestling weekend, and was last spotted unconscious in the nosebleeds at Snoopy Stadium so it's got the week off. I hope there's no objections to this week's big game: Phoenix Wright: Ace Attorney Trilogy, the collection of DS games appearing on every system known to man. Alternatively, the well-acted Hellblade: Senua's Sacrifice provides some nice psychological and philosophical discussion.
Other possibilities this week include a version of Macventure/NES title Shadowgate, or you can get ready for an upcoming television premiere (and get some more children's card game) with Reigns: Game of Thrones. Cook, Serve, Delicious! 2!! is also hitting Switch this week, and as the predecessor to Overcooked it's got a shot to shine. We have an early Archives title to report this week, as Konami joins the Hamster party with Time Pilot.
In foreign affairs, Japan gets Final Fantasy X/X-2 a few days early, along with... an anime skateboarding game.
North America
Switch eShop
Silence (US$39.99/C$50.39)
Phoenix Wright: Ace Attorney Trilogy ($29.99/$39.99: Tuesday)
Hellblade; Senua's Sacrifice ($29.99/$32.99)
Vaporum ($24.99/$29.99)
Shadowgate ($19.99/$25.99)
Greco's Hall of Kanji: Learn Japanese Beginner ($16.99/not releasing: Wednesday)
Way of the Passive Fist ($14.99/$18.99)
Out There: Omega The Alliance ($14.99/$18.89: Tuesday)
Cook, Serve, Delicious! 2!! ($12.99/$16.37: Wednesday)
Jungle Z ($12.99/$16.37: Monday)
The Mystery of Woolley Mountain ($12.99/$15.99: Wednesday)
Rolling Sky ($10.99/$12.59: Friday)
Bot Vice ($9.99/$14.99)
Slime Tactics ($9.99/$12.59)
The Demon's Crystal ($9.99/$12.59)
Doggie Ninja: The Golden Mission ($8.00)
A Dark Room ($6.99/$9.69: Friday)
Street Basketball ($5.99/$7.99)
Back to Bed ($4.99/$6.99)
Super Star Path ($4.99/$6.99)
Super Weekend Mode ($4.99/$5.99: Friday)
Switch 'N' Shoot ($4.59/$5.78: Wednesday)
Reigns; Game of Thrones ($3.99/$5.03)
Box Align ($1.99/$2.49)
Switch Archives
Time Pilot ($7.99/$9.87)
Sales and Price Drops
Highlights: Enter the Gungeon's update also spawned a 50% off sale until Friday, Black Bird is 50% off until the 18th. Spreadsheet
Europe
Switch eShop
Windstorm - Ari's Arrival (€39.99/£35.99)
Phoenix Wright: Ace Attorney Trilogy (€29.99/£29.99: Tuesday)
Hellblade; Senua's Sacrifice (€29.99/£24.99)
Vaporum (€24.99/£19.99)
Shadowgate (€19.99/£15.99)
Greco's Hall of Kanji: Learn Japanese Beginner (€14.99/£13.49: Wednesday)
Cook, Serve, Delicious! 2!! (€14.39/£12.99: Wednesday)
Out There: Omega The Alliance (€13.00/£11.69: Tuesday)
Way of the Passive Fist (€12.99/£11.99)
Jungle Z (€11.49/£10.37: Monday)
The Mystery of Woolley Mountain (€10.99/£9.99: Wednesday)
Rolling Sky (€9.99/£8.99: Friday)
Slime Tactics (€9.99/£8.99)
Bot Vice (€9.99/£9.99)
The Demon's Crystal (€9.99/£8.99)
War Theatre (€8.99/£8.09)
Doggie Ninja: The Golden Mission (€6.5/£5.89)
A Dark Room (€6.99/£6.29: Friday)
Street Basketball (€5.99/£5.49)
Super Weekend Mode (€4.99/£4.99: Friday)
Back to Bed (€4.99/£4.49)
Super Star Path (€4.99/£4.99)
Reigns; Game of Thrones (€3.99/£3.59)
Switch 'N' Shoot (€3.89/£3.49: Wednesday)
Box Align (€1.99/£1.79)
Switch Archives
Time Pilot (€6.99/£6.29)
Japan
V-Rally 4 (¥7800)
Final Fantasy X/X-2 (¥6566)
Detective Conan: Skateboard Run Kid And Mystery Of The Treasure (¥3000)
Shadowgate (¥2200)
Jungle Z (¥1500)
Rolling Sky (¥1500)
Ghoulboy (¥1080)
Slime Tactics (¥1000)
Time Pilot (¥823)
Doggie Ninja (¥800)
Reigns; Game of Thrones (¥410)