It's a bit rustic.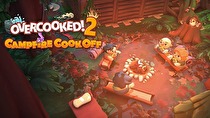 Overcooked 2 will be bringing a buffet of content in 2019, with the first course coming next month.
"Campfire Cookout", an expansion set around a pastiche of the Scouting movement, will be available on April 18. The expansion will add a new map, four new playable chefs, and new meals to cook in the woods.
The expansion will be available standalone for US$5.99, or as part of a season pass for $18.99 that will include two more packs through 2019.