Think the included games aren't fun? You can roll your own.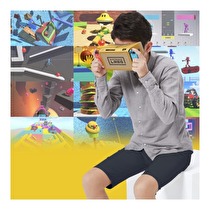 Nintendo has released new details about the upcoming Labo VR Kit, including the ability to design VR experiences with the kit.
The starter and full kits will include Toy-Con Garage VR, which is the tool Nintendo indicated they used to design the included software. 64 small games will also be available in the VR Plaza, with a large portion of them using just the VR goggles.
Labo VR Kit launches April 12, and Nintendo is encouraging use by children 7 and older. Parental control options can be used to restrict access to VR.