With a manual designed by our very own David Lloyd!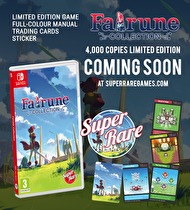 The next release in Super Rare Game (SRG) lineup is not just one game, but a collection of four different games in the Fairune series released as a physical package for the Nintendo Switch. Fairune Collection contains 4 titles; Fairune, Fairune 2, Fairune Origin and Fairune Blast. You can check out our review written by Jordan Rudek (@riskman64) here.
As a cool bonus for NWR fans, the 20 page manual included in this release was designed by our very own Associate Editor David Lloyd (@filteredgamer)!
"Fairune is a retro-styled adventure RPG. Our heroine embarks upon a journey to unlock three mysterious statues and seal away a great evil. Throughout the journey she will need to solve puzzles, fight monsters, discover new weapons and improve her abilities.
Fairune 2 brings our heroine back for another perilous quest, this time to find a lost fairy. This sequel delivers a bigger world for those that are ready for the challenge.
Fairune Origin, being released for the first time, offers an intriguing look at the beginnings of the IP. It provides a short but fun adventure and illustrates how SKIPMORE conceptualised the gameplay of the two games that followed.
Fairune Blast is an unlockable treat that offers players something completely different. It's a colourful shoot-em-up, perfect for pick-up-and-play action on the Nintendo Switch!" - (via Super Rare Games' press release)
You can check out more information about Super Rare Games' 14th release here.