The physical version won't be far behind.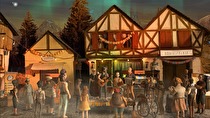 Independent games are often described as "handmade" but an upcoming Headup title takes that to new heights.
Trüberbrook, a German-developed adventure title, will release on the Switch eShop on April 17, with a physical version to follow two days later. Each character in the game was individually constructed by hand, with small flourishes added to make them stand out when digitized.
Our Daan Koopman went hands-on with the game at Gamescom.