Now Canadians, Brits, Aussies, and more can know the joy of getting a 5* book.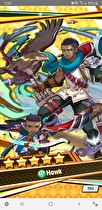 The newest update to Dragalia Lost has also come with launches in a group of new countries.
Canada, the UK, Ireland, Australia, New Zealand, and Singapore all have the game available in the local App Store now. This is approximately five months after the game's launch in Japan, the United States, and more.
The base download is about 85MB, but ingame updates will take up to 2GB.