Curse you, Petey the potted Piranha Plant!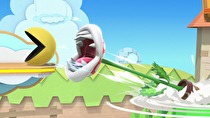 Smash Ultimate version 2 is now live, bringing a host of adjustments and a new challenger.
The update, available now from the eShop, brings Piranha Plant to the game for those who have entered the code received when registering the game or purchasing it digitally. A multiplayer option has also been added in Spirit Mode, allowing up to four players to tackle the board. In multiplayer Spirit Board, the challenge will be lost if any player is KOed.
Previously event-only Spirits, such as the Let's Go Pikachu/Eevee partners, can now be purchased in the shop. Character adjustments are also active.