And for the curious, drills are involved.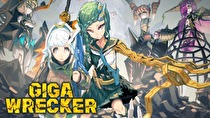 Another one of Game Freak's side projects will be coming to Switch soon.
Rising Star Games will publish Giga Wrecker Alt, a console version of a sidescrolling platformer that was previously available on Steam's Early Access, "soon" according to a new trailer. A limited physical version will be available from Limited Run Games as well.
The original Giga Wrecker is a sidescrolling action title which focuses on destroying the environment to solve puzzles, and the console version will include a new hint system. This is the second of Game Freak's side projects to be announced for Switch following the announcement of the working-titled "Town" last year.