It's a good week to be a remake.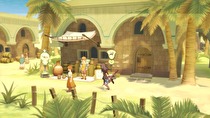 Anything new and exciting this week?
Not so much new, but definitely exciting. We've got the most important re-release of the week in Tales of Vesperia Remaster, plus the re-release of New Super Mario U and Bowser's Inside Story (with added juice). Hell, OutRun's coming out from Sega this week, so that makes it a good one by default.
So it's nothing but old stuff.
Aside from Hive Jump, that's actually it for the re-releases. The new games include 13AM Games's first post-Runbow title in Double Cross, a tragic story in Bury Me My Love, and Snowboarding: The Next Phase which has some former developers of not-#Skate4.
I thought you said Japan was getting back to normal after New Year's.
Eh, there's still some shadowdrops inevitably, but they get off to a slower start than we do.
North America
Switch Retail
New Super Mario Bros U Deluxe (US$59.99/C$79.99: Friday)
Tales of Vesperia Remastered ($49.99/$64.99: Friday)
3DS Retail
Mario & Luigi: Bowser's Inside Story + Bowser Jr's Journey ($39.99/$49.99: Friday)
Switch eShop
Double Cross ($19.99/$24.99)
Combat Core ($19.99/$24.99)
Knock 'em Down Bowling ($14.99/$18.89)
Everything ($14.99/$18.89)
Caveblazers ($14.99/$18.89)
Momodora; Reverie Under The Moonlight ($14.99/$18.89)
BQM: Block Quest Maker ($14.99/$18.89)
Stellar Interface ($12.99/$16.37: Friday)
Big Crown: Showdown ($12.99/$14.99)
Neko Navy: Daydream Edition ($12.99/$14.49)
Guns of Mercy - Rangers Edition ($11.99/$15.11)
Snowboarding: The Next Phase ($9.99/$12.99)
Inside My Radio ($9.99/$12.59)
Apocalipsis Wormwood Edition ($9.99/$12.59)
Samsara Deluxe Edition ($9.99/$12.59)
Hive Jump ($9.99/$12.59: Friday)
Hopiko ($9.99/$11.99)
Overdriven Reloaded: Special Edition ($7.99/$10.07)
Mecho Wars: Desert Ashes ($7.99/$10.00)
Number Palace 10000 ($5.89/$7.81)
Bury Me, My Love ($4.99/$6.29)
Fragment of Marine ($4.99/$6.29: Friday)
Grab Lab ($4.99/$5.99)
Clock Simulator ($3.99/$5.03)
Marble Power Blast ($2.99/$3.79)
Bubble Shooter DX ($2.99/$3.75)
Lightseekers (free)
Switch Archives
Kizuna Encounter ($7.99/$9.87)
Outrun ($7.99/$8.99)
Sales and Price Drops
Highlights: Nintendo and Atlus are both having New Year's sales until Thursday. Spreadsheet
Europe
Switch Retail
New Super Mario Bros U Deluxe (€59.99/£49.99: Friday)
Tales of Vesperia Remastered (€49.99/£39.99: Friday)
3DS Retail
Mario & Luigi: Bowser's Inside Story + Bowser Jr's Journey (€39.99/£34.99: Friday)
Switch eShop
Elli (€19.99/£17.99)
Double Cross (€19.99/£17.99)
Combat Core (€17.60/£15.79)
Battle Princess Madelyn (€14.99/£13.49: Monday)
Knock 'em Down Bowling (€14.99/£13.49)
Momodora; Reverie Under The Moonlight (€13.99/£12.59)
Stellar Interface (€12.99/£12.99: Friday)
Caveblazers (€12.99/£11.99)
BQM: Block Quest Maker (€12.99/£11.99)
Everything (€12.99/£11.69)
Big Crown: Showdown (€12.99/£9.99)
Neko Navy: Daydream Edition (€10.99/£9.89: Tuesday)
Snowboarding: The Next Phase (€9.99/£9.99)
Hive Jump (€9.99/£9.99: Friday)
Ethan: Meteor Hunter (€9.99/£8.99)
Inside My Radio (€9.99/£8.99)
Hopiko (€9.99/£8.99)
Voxel Sword (€6.00/£5.50)
Gemcrash (€4.99/£4.49: Monday)
Bury Me, My Love (€4.99/£4.49)
Grab Lab (€4.99/£4.49)
Left-Right: The Mansion (€4.99/£4.00)
Fragment of Marine (€4.40/£3.99: Friday)
Clock Simulator (€3.99/£3.59)
Bubble Shooter DX (€2.99/£2.69)
Lightseekers (free)
Switch Archives
Kizuna Encounter (€6.99/£6.29)
Outrun (€6.99/£5.99)
Japan
New Super Mario Bros U Deluxe (¥6458)
Tales of Vesperia Remastered (¥6156)
Momodora; Reverie Under The Moonlight (¥1620)
Big Crown: Showdown (¥1399)
Snowboarding: The Next Phase (¥1099)
Alwa's Awakening (¥1000)
A Kei Otaku Kanojyo (¥980)
Pic-a-Pix Deluxe (¥800)
Suicide Guy: Sleeping Deeply (¥770)