The waifu is strong with this one. (And yes, Astolfo counts as a waifu.)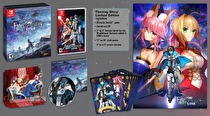 The billion-dollar Fate franchise is taking another stab at the Switch.
Fate/Extella Link has been slated for a Q1 2019 release in the West on Switch and PC, after previously being announced for PlayStation Vita and PS4 localization. A direct sequel to 2017's Fate/Extella: The Umbral Star, the new game adds ten new "Servants" (playable characters) to the cast.
The physical release will have two versions: A standard edition for US$49.99, or a special edition that includes a soundtrack and collectable cards depicting the new Servants for US$79.99.