Thunderbolts and lightning, very very frightening me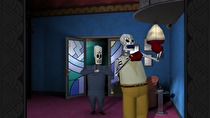 Double Fine has stealth dropped one of their hits on this day after Halloween.
Grim Fandango Remastered has released in the North American and European eShops for $14.99/€12.99/£11.49. Originally released in 1998 for PC, the remastered version first launched there in 2015.
Along with Broken Age, Grim Fandango Remastered was first announced for Switch during a panel at this year's E3 fan show.