Building a userbase one fishing pole at a time.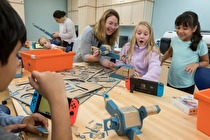 Nintendo's plans for Labo include a push into education.
In concert with the Institute of Play, schools in New York State have begun to receive Labo kits for use in science, technology, engineering, art, and math courses. The plan is to roll out into more than 100 schools across the US through the rest of the 2018-19 school year.
The pilot program will be used to create a teacher's guide which will later be distributed for free.