Some news for fans of random generation out of Europe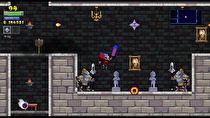 The roguelike family on Switch is going to add a new member in early November.
A listing for Rogue Legacy, Cellar Door Games's 2014 roguelike, has appeared on the European Switch eShop. The release date shows 6 November, and the price is €14.99/£10.99.
Rogue Legacy debuted on PC and PlayStation consoles before migrating to the Xbox One previously. As the title suggests, the game focuses on roguelike exploration and creating multiple generations of characters with different traits.