Complete with a certificate of authenticity.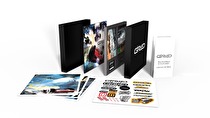 GRIP: Combat Racing will have a beefy collector's edition for its November 6 release.
The vehicle combat will have a host of items in its collector's edition. These include a full soundtrack in vinyl, CD, or MP3 formats, art prints, a USB thumb drive, vehicle decals, a car sickness bag, and a certificate of authenticity. Exclusive add-on content will also be included.
GameStop / EBGames preorders will also include some exclusive DLC at pickup.