Head on down to the eShop and have yourself a bankruptcy.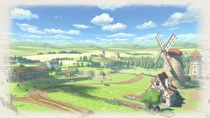 If you hear a giant sucking sound this week, fear not; it's just the week's releases - 26 as of press time just for NA, with at least two more coming - taking all of your money. The bigguns are Valkyria Chronicles 4 - I reviewed it a couple of weeks ago, so you may have forgotten - EVO superstar and biggest fighting game of the year on Switch Dragon Ball FighterZ, EA's second release of the year in FIFA 19, and the original adventure of The New Kid in South Park: The Stick of Truth.
The smaller titles deserve some love as well, though Arena of Valor drops on Tuesday and it's hard to call a game like that "small". Maybe Towerfall, Ultimate Chicken Horse, This Is The Police 2 or Rise and Shine (an Adult Swim Games joint) are more your speed. There's even a mobile game coming, as Nintendo and Cygames team up for Dragalia Lost. The Archives titles for this week haven't been identified yet, but we can count on at least two from Hamster after they announced SIXTEEN over the weekend. Edit 11:20pm ET Wednesday: The Archives this week will have King of Fighters 2001.
Japan has a double of "RPGs in Donald's wheelhouse" this week, as Valkyria Chronicles 4 is joined by both the original VC *and* The World Ends With You: Final Remix.
North America
Switch Retail
Valkyria Chronicles 4 (US$59.99/C$79.99: Tuesday)
Dragon Ball FighterZ ($59.99/$79.99: Friday)
FIFA 19 ($59.99/$79.99: Friday)
Giana Sisters: Twisted Dreams Owltimate Edition ($29.99/$37.99: Friday)
This is the Police 2 ($29.99: Tuesday)
3DS Retail
Jake Hunter Detective Story: Ghost of the Dark ($39.99/$50.39: Friday)
Switch eShop
Pilot Sports ($34.99/$44.09)
South Park: The Stick of Truth ($29.99/$39.99: Tuesday)
Marble it Up ($19.99/$25.99: Saturday)
Wandersong ($19.99/$25.19)
Towerfall ($19.99/$25.19)
Armello ($19.99)
Rooms: The Adventure of Anne & George ($16.99/$19.89: Wednesday)
Oh My Godheads: Party Edition ($14.99/$19.99: Tuesday)
Rise and Shine ($14.99/$18.99)
The Escapists: Complete Edition ($14.99/$18.89: Tuesday)
A Gummy's Life ($14.99/$18.89: Tuesday)
Demon's Crystals ($14.99/$18.89: Friday) Delayed
Ultimate Chicken Horse ($14.99/$16.99: Tuesday)
Think of the Children ($12.99/$16.37: Tuesday)
Exorder ($12.99/$14.99)
Gaokao.Love.100Days ($11.99/$12.99: Monday, launch discount)
Whispering Willows ($9.99/$12.99)
Alwa's Awakening ($9.99/$12.59)
Dokuro ($8.99/$10.99)
Moorhuhn Wanted ($6.99/$8.81)
Jack 'n Jill DX ($4.99/$5.99: Friday)
Tangrams Deluxe ($4.99/$5.99)
Snake vs Snake ($3.99: Wednesday)
Hardway Party ($1.99)
Arena of Valor (free to play: Tuesday)
Switch Archives
The King of Fighters 2001 ($7.99/$9.87)
Mobile
Dragalia Lost (free to play)
Sales and Price Drops
Highlights: Nicalis titles are on sale until October 1: Ikaruga is 33% off Spreadsheet
Europe
Switch Retail
FIFA 19 (€59.99/£54.99: Friday)
Dragon Ball FighterZ (€59.99/£49.99: Friday)
Valkyria Chronicles 4 (€59.99/£49.99: Tuesday)
Namco Museum Arcade Pac (€39.99/£32.99: Friday)
This is the Police 2 (€29.99/£26.99: Tuesday)
Giana Sisters: Twisted Dreams Owltimate Edition (€29.99/£26.99: Friday)
3DS Retail
Jake Hunter Detective Story: Ghost of the Dark (€39.99/£35.99: Friday)
Switch eShop
South Park: The Stick of Truth (€39.99/£29.99: Tuesday)
Pilot Sports (€34.99/£29.99)
Wandersong (€19.99/£17.99)
Towerfall (€19.99/£17.99)
Armello (€19.99/£14.99)
Ultimate Chicken Horse (€14.99/£13.49: Tuesday)
A Gummy's Life (€14.99/£13.49: Tuesday)
Rise and Shine (€14.99/£13.49)
Demon's Crystals (€14.99/£13.49: Friday)
Oh My Godheads: Party Edition (€14.99/£11.99: Tuesday)
The Escapists: Complete Edition (€14.99/£9.99: Tuesday)
Think of the Children (€12.99/£11.69: Tuesday)
Rooms: The Adventure of Anne & George (€12.99/£11.69: Wednesday)
Exorder (€12.99/£11.49)
Alwa's Awakening (€9.99/£6.99)
Whispering Willows (€8.99/£7.99)
Dokuro (€8.99/£7.49)
Moorhuhn Wanted (€6.99/£6.29)
Jack 'n Jill DX (€4.99/£4.99: Friday)
Debris Infinity (€4.99/£4.49: Tuesday)
Snake vs Snake (€3.99/£3.99)
Tangrams Deluxe (€3.99/£3.99)
Find the Balance (€1.99/£1.99: Friday)
Arena of Valor (free to play: Tuesday)
Japan - Switch
Warriors Orochi 4 (¥8424)
Valkyria Chronicles 4 (¥8089)
Labyrinth of Refrain: Coven of Dusk (¥7538)
Dragon Ball FighterZ (¥7344)
Norn9 LOFN (¥7344)
MotoGP 18 (¥6400)
FIFA 19 (¥6264: Friday)
The World Ends With You: Final Remix (¥5184)
Elemental Knight Online R (¥2800)
Valkyria Chronicles (¥2149)
Armello (¥1980)
BEAST Darling!~Kemomimi Danshi to Himitsu no Ryou~ (¥1980)
Rūmuzu Anne to George no Fushigina Puzzle (¥1680)
Secret Game Killer Queen (¥1620)
Rebellions: Secret Game 2nd Stage (¥1620)
Bridge Constructor Portal (¥1500)
Ultimate Chicken Horse (¥1500: Tuesday)
Dream Alone (¥1350)
Mercenaries Wings: The False Phoenix (¥1200)
Moorhuhn Wanted (¥900)
The King of Fighters 2001 (¥823)
Dokuro (¥800)
Mummy Pinball (¥300)
Arena of Valor (free to play: Tuesday)