It'll be easier than ever to squad up and support Marina.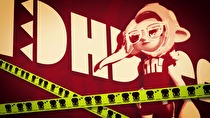 Upcoming updates for Splatoon 2 and Mario Tennis Aces have been revealed.
The Splatoon 2 4.0 update will launch tonight, and will add new gear and weapons. Additionally, Splatfests will now feature easier teaming with friends, and bonuses will be available for consistently performing teams. A Pro Mode will also be available, and random battles will allow for 10x or even 100x modes.
Mario Tennis Aces will add online co-op missions and new characters including Petey Piranha and Birdo. Further support has been announced to last until June of next year, one year from the game's launch.