The original eight will adorn your dock.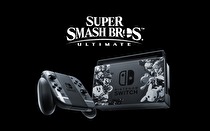 Super Smash Bros Ultimate will have a hardware bundle, and it's launching earlier than would be expected.
The hardware bundle will launch on November 2 and will include a dock with the original eight Smash Bros characters and specially adorned Joy-Cons. A download code for Smash Bros Ultimate will be included, but according to Nintendo it will not be live until December 7.
The GameCube controller adapter reissue has also moved up to launch alongside the bundle on November 2.