It's the only "wah wah" we'll be getting.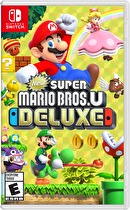 One of the Wii U's launch titles is making its way to Switch in a new Deluxe package.
The Deluxe version of New Super Mario Bros. U was announced in today's Nintendo Direct for release on January 11. The New Super Luigi U expansion will also be in the package.
Nabbit and Toadette will be playable in the game; Nabbit does not take damage from enemies, while Toadette can power up with a crown to become "Peachette" and gain a double jump.