Getting in before the ponies.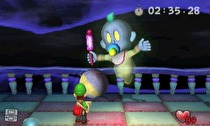 Cries of "Mario? Maaaaario..." will come once again from the 3DS around the middle of October.
Nintendo have confirmed the 3DS remake of Luigi's Mansion will launch on October 12 in North America, with release on 19/20 October for Europe and Australia. For North America, the game's MSRP will be $39.99.
Luigi's Mansion is the third major first party release in the early bit of October, joining Super Mario Party and The World Ends With You: Final Remix (October 5 / 12).