And with Rayman Origins by way of Legends, the gang's all here.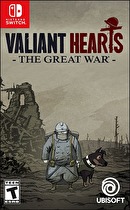 Ubisoft is filling in some more of their catalog on the Switch this fall.
Both Child of Light and Valiant Hearts: The Great War, two games that used the UbiArt framework, will come out on Switch in the coming months. Child of Light will come first on October 11, with Valiant Hearts following on November 8.
Child of Light is a side-scrolling RPG set in a fanciful world, with a story told entirely in rhyme. It originally released on the Wii U in 2014. Valiant Hearts: The Great War is an adventure game set during World War I that tells multiple stories. The Switch version of Valiant Hearts will come with a separate story based on the dogs of the war.