After a side trip to board games, they're going back to their roots.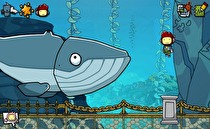 Warner Bros. is bundling a couple of Scribblenauts titles for the Switch next month.
The Scribblenauts Mega Pack has drawn up a September 18 Switch release, for a starting MSRP of $39.99. The Mega Pack will contain Scribblenauts Unleashed and Scribblenauts Unmasked: A DC Comics Adventure.
Originally released in 2012 and 2013 respectively, both games were originally released on the Wii U.