Take this anime-styled adventure for a spin.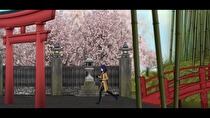 The distributor of Tiny Metal has announced an enhanced version of a PC visual novel for Switch later this year.
Unties, Sony Music's game publishing branch, have confirmed a console release for Tokyo Dark: Remembrance for winter 2018. The Switch version of the game will contain additional endings and other enhancements.
Set in Tokyo, the game stars a detective named Ito who is trying to track down a missing partner in Tokyo's underground. The story is navigated by balancing the stats of sanity, professionalism, investigation skill, and neurosis.