The long running adventure series has a few new tricks up its sleeve for the Switch.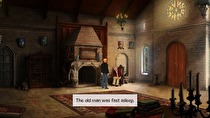 After nearly a decade away, the Broken Sword series is returning to Nintendo consoles.
Broken Sword 5: The Serpent's Curse has been tabbed for a September 21 release on Switch, retailing for US$29.99. Originally released episodically on PC beginning in 2013, the game will contain both episodes in its retail and digital Switch releases.
A point-and-click style adventure, Broken Sword 5 will feature touchscreen and Joy-Con support, as well as include behind-the-scenes videos that unlock through the course of the game.