Arcade combat has never been this sticky.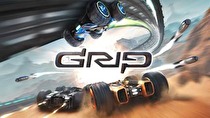 November will see a new arcade combat racer drive into the Switch.
Previously announced for a Q4 release earlier this year, Wired Productions will launch GRIP: Combat Racing on November 6 in North America. The game will feature 15 vehicles racing across 22 tracks and nine different weapons to blast the competition with.
GRIP features development talent from the Rollcage series of combat racers, which were cult hits on PC and the original PlayStation in the late 1990s.